Content marketing strategy
Creating a content marketing strategy sets you up with a foundation for implementation, creation, follow-up and long time success in content marketing. The strategy provides you with a roadmap to help you manage all the "any ideas on what to do?", "why don't we try this" and "hey, is this really working?". The strategy defines what you want to achieve and how to get there. Even Eights easy-to-use content marketing strategy-template consists of six steps and is suitable for any online business.
Having developed strategies & led organizations in content marketing in agency & e-commerce settings, I can not stress enough the importance of having a clear strategy. Without strategy, you will end up in a situation where you "just do things". Most often with the best of intentions. Increased revenue, lower marketing costs, improved repurchase rates and new revenue-generating ideas can only be achieved if you know what you are doing, how and to what end.

Take your e-commerce offering beyond price & product, get more new & returning customers. Learn more about your target audience, increase loyalty & become the market leader in your niche.
The six steps of the content marketing strategy:
Be clear on your business objectives
Know your target audience
Map channels and platforms
Set the content marketing objective
Define desired behavior
Summarize it all in a mission statement
Content marketing strategy example – step by step
1. Be clear on your business objectives
Describe what your content marketing program will contribute to the overall business. It is important to link your content marketing program to the company's goals.

If you then make the goals measurable, it will make it easier for you to evaluate and optimize (see examples of how you can set KPIs for content marketing under "How to set goals and key figures for content" marketing ")

Example: Increase knowledge of the target group's needs, increase the number of visitors via Google, reduce the number of customer service cases, reduce dependence on ads around Christmas with the help of improved organic rankings, more active and returning customers via the newsletter using more diversified content.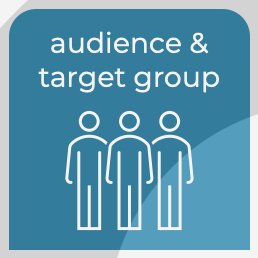 2. Know your target audience
Describe the audience for which the content will be created. What needs have they directly and indirectly linked to your content? Are there seasonal behaviors worth considering?

Here you can describe simple personas and sketch out what type of content they need to move forward with their goal and strengthen the relationship with your platform / brand. Remember that from the "content marketing goal" it is about your target group's needs and wishes, not yours.

Example: Our target group is divided into two distinct groups: comparative first-time buyers and information-seeking veterans. Group 1 (comparative first-time buyers) are looking for the optimal product to solve X. They are passive members of forums but are all the more active on comparison sites and review sites where they are happy to share personal experiences of products. This applies to both performance and price.

Group 2 (information-seeking veterans) often have a product and are primarily interested in 1) information about spare parts 2) information about self-service and 3) the corresponding replacement for the product they have. Given that our products are pronounced winter products, both groups are most active during the autumn and winter season.

However, group 2 are also active during the late summer. This is probably linked to the group's interest in spare parts and service. This gives us the chance to create and distribute content related to…
3. Map channels and platforms
In which channels does your audience stay? Here it is important to think both analog and digital and that you should include owned, earned and paid channels. Although the goal is to build your platform, other sites and channels have a role to play.

Example: Both Groups 1 and 2 are loyal Googlers. Here, purchased traffic can be an alternative to start with to increase the exposure of the content. Some blogs have also been identified as gathering places, primarily for Group 2.

Groups 1 and 2 are members of the Facebook groups X and Y. Other social channels are not important at the moment but must be monitored. Sites Z belong to the secondary competitors and have an advertising offer. It provides good conditions for seasonal native campaigns.

The primary channels are initially estimated to be Google and Facebook groups. In parallel, we will build our own newsletter.
4. Set the content marketing objective
What to do for the audience / target group. Describe how your content marketing program will help the target group help you achieve your business goals. In other words, it is about which values you should deliver to the target group so that it in turn will help you achieve your business goals.

Also include risks and opportunities that you have identified as you learn all about your target audience. Also clarify how you differ from competitors (there are several types of competitors to take into account. Read more about competitors under "online competitors").

Example: Based on the research we have done, it is clear that our industry has an information challenge online. Our primary competitors (who also market and sell the product online) lack content tailored to the questions customers have before and after the purchase.

Secondary competitors (who do not sell but write and communicate about / around the product) such as forums and sites X, Y and Z have very good visibility on Google and also run several large private groups on social media. The focus with us and our primary competitors is on price and communication far down the funnel.

By producing content that appeals to the target group's needs further up the funnel and after purchase, we will be able to increase the number of visitors from Google and reduce the number of customer service cases.

In short, it is about helping the target group (see more under "Audience and target group") to compare performance, experience and price and find and take part in clear and transparent information regarding spare parts and self-service. With the launch of new models, we make it easy to compare with previous models.
5. Define desired behavior
What we want the target audience to do (for you). What should happen when the content has been created and distributed to the audience? What exactly is the target group to do? Here you link your content marketing goals to your business goals and thus create a basis for goal setting and follow-up.

Since an important part of content marketing is listening and learning from the target audience (which is also one of the business goals in this example), you can keep this part overall at first and narrow down over time.

Example: Group 1 shall be offered to participate in an annual survey on product X. The target groups shall participate and comment on content on our website. Group 2 will download PDF manuals via our website. Group 1 must share and refer to our comparison pages on the website, etc.
6. Summarize it all in a mission statement
Here you summarize in a concise and captivating text what your mission to the audience is. This is the last thing you do and which in a couple of sentences should summarize why you do what you do.

Example: X helps fans and users of Y to get better at Z. With the help of a growing community and experts at Y, X highlights Z in the spotlight and gives life renewed life to a job that is performed every year by thousands of Swedes. For you, we would lift the hood and learn more about Y, its history and future. We compare, listen and make Y better.
---
Contact me if you want to…
Know more about your competitors, their strengths and weaknesses
Get a better understanding of your target group/audience and what they are really looking for
Give your upcoming market launch (ecom or website) the best possible start
Know how to grow without being addicted to ads and big budgets
Do you want to explore creating a content marketing strategy for your business?